About Us
Syracuse Model Neighborhood Facility, Inc. (SMNF), a non-profit organization was established in 1975. SMNF is the managing entity of the city of Syracuse-owned Syracuse Community Connections located at 401 South Avenue in the city of Syracuse.
Syracuse Model Neighborhood Facility, Inc. provides a network of human services throughout Onondaga County. The agency has particular experience in service provision to predominately African American, low-income residents. Through special events, outreach efforts, prevention, intervention, employment, and educational services, support, peer, and mentoring groups, and collaborative programs – people throughout the city and county interact with and benefit from agency services.
Mission
To work with individuals, families, and communities to promote health and well-being through prevention, intervention, and education.
History
Syracuse Model Neighborhood Facility was established as an initiative of the Model Cities Program which was designed to develop new anti-poverty programs during President Lyndon Johnson's administration. Government officials and community residents worked collaboratively to envision, design, and implement the completion of Syracuse Community Connections (SCC). Syracuse Model Neighborhood Facility was created under the leadership of the late Reverend Larry Briggs to manage its operations and secure tenancy of area human service providers at the community center.
SCC, in the tradition of settlement houses, provides services and activities designed to identify and reinforce the strengths of individuals, families, and communities.
In 1987, Jesse Dowdell became the agency's Executive Director. Over the next 25 years, the agency's service to the Syracuse community grew with the addition of SMNF directed services and Family Planning Services of Onondaga County (FPS) to expand the organization's services in the field of reproductive health for women, men, and teens. In May 2013 Sharon F. Owens became the third Director in the agency's history and envisions expanded services that infuse human service provision with community revitalization initiatives to further serve an increasingly needing community.
Lawrence Williams is now the 4th Chief Executive Officer to lead Syracuse Community Connections in its 47-year history. A born resident of Syracuse, he brings 25 years of educational leadership, as a former administrator, teacher, youth development, programming, and community advocacy. Mr. Williams was the Director of Community Initiatives for Syracuse Community Connections for 4 years prior to being appointed CEO.
Welcome to Syracuse Community Connections (SCC).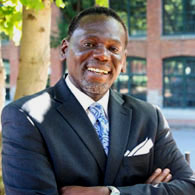 As CEO of SCC, I remain committed and vigilant in leading us into the future by focusing on the pillars that made this agency a vital necessity in our community. It is why our commitment to serve the public has always remained the same and is visible in our neighborhoods. As an agency we work hard to strengthen families, empower our youth to reach their full educational potential with our public health and safety programming, and provide career opportunities in the communities we serve.

We continue to expand our outreach at SCC. We continue to look to grow our capacity and resources. We continue to meet the needs of our neighbors. I am excited to continue leading SCC.